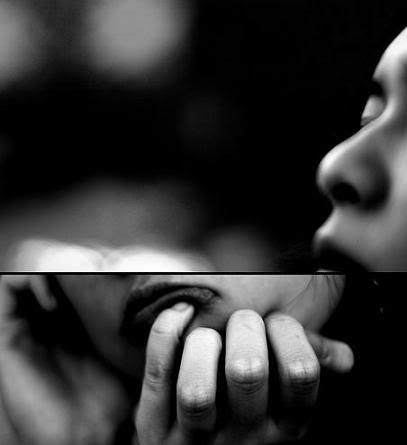 MOSQUITOS AND THE NOISE my windows opened naturally, beautiful autumn days past behind and moving forward patterns and structures days of fallen leaves, naked suspended reaching nowhere branches and increasing cold; these might enchant me more than winter and i had no fucking idea david foster wallace killed himself, hung himself, another archetypal voice and clear genius lost to the other/dark/er side – so disconsolate. i am practically Dead from cyclical lashes of near total sleeplessness which causes my head&body to waver and feel elated, black out with discretion and without sound, but aside from all the common saturated points such as anxiety and fear and desolation i feel towards Fine. of course everything would be b e t t er if i was indeed made purely out of flawlessly sculpted ice wrung by the hands of androids and i'd never feel anything at all but emotionlessness, detachment and () however impossible : one can always divide reality, descend into the disorienting fever of d r e a m i n g. this morning on my way to work low temperatures and the coldest one yet, caused my fingers to lose sensitivity and made the task of steering my bike somewhat complicated. all my trains are late and i should have quit this job late august but i haven't, as they have assigned me to work some extra irregular hours till the close of october, only "god" knows why and why do i care . . . .? ever since june L have expressed interest and desire to participate in the FRA-demonstration held in stockholm, two weeks ago she woke me up with an urging text message ("fuck this! let's go, seriously!") and then we did. plane tickets were bought and purchased, living arrangements were settled - 24 hours later we found ourselves in our capital city; somewhat dazed, giddily unbelieving and certainly Game. we were very generously given a place to stay by L's aunt and her man - these two thrilled me by being completely nuts and absolutely darling; both of them being very hippielike unmistakable biker enthusiasts - their apartment stashed with hardcore things like skulls, pornographic paintings, pirates, bike magazines and emblems, a stuffed tiger's head(!) with its jaw and exposed gleaming white teeth wide open and a pet rat sneaking across the floors. i stood in the hall for a moment contemplating especially a painting depicting a hollow skull in pirate wares with the compelling text GINGER ALE & LOOSE WOMEN, said maybe "this is my favorite" and smiled in earnest. but the couple, marvelous - so laid back and fun and sweet on each other i privately flooded with gratitude, as i do love to come across individuals that transpires hope, difference and an open mind, i love it even more when it's unexpected.


MY RAIN REALLY POURS AT LEAST MORE THAN YOURS so the demonstration. baffled me negatively, both the poor slash downright weird lineup of public speakers and the apathy of others; it's highly dispiriting that in such a big and populated city, only merely 300 people bothered to show up and take part in the march, state their opposition, opinions and offer support, fuck. i was pretty irritated, pretty downcast, thank god for the glittering opportunity to meet up with J who i hadn't seen in quite some time after his sudden departure To The South and the sudden decision to stay there permanently : splendid&majorly uplifting to see him again. he treated me to possibly the best café latte in all of sweden and also took me to the queer quarters of stockholm, met a colourful range of colourful people that i enjoyed quietly, as i mostly sat half-smiling in my chair, observing. we left for a second hand shop, wherein J tried on a sleek black dress that was so impressively fit and Hot on him that he bought it to wear&show off during next year's pride festival, walking towards the subway afterwards he muttered full of accusation "you think this is so weird. i can tell by the look of your face!" and i said "oh please." and refrained from rolling my eyes by looking elsewhere . . . . meeting up again with L and her ladyfriend P we ended up moving about randomly on söder which might predictably be my favourite Area of stockholm, chilled and had coffee down inside blue lotus – a cosy hindu/buddhist-inspired café full of incense, general calm and ease. this day would have been high on all scores if it weren't for the fact that i felt so violently / unexplainably sick and nauseated, felt like and wished to vomit but couldn't. i had the standard hard time adjusting to the unremitting crowds, rhythm and physical movement, worsened by my then current state conversations flew past and through as i blinked and breathed shallowly, i registered not really a single word for such a long while that it began to consciously alarm but i did as usual dismiss and in the end i was okay, finding my way safely once again. our first evening offered an introduction to poker, i won my very first game with uncanny superiority, then of course later i got too arrogant and daring; lost everything repeatedly. i want to remember every detail and i do but with limited capacity and still i hold so much back, word things differently because i can't bear my own honesty and sealed openness. the two following days are obscure at the edges, i think L and i spent most of the time together, walking the streets and stopping inside various stores – L bought a delicious pair of black mary janes, and we also tried on different pairs of fucking gorgeous unreasonably high-scaled platform boots, one which i would have bought if i didn't doubt my ability to rock their extremity the way it needs to be done to really Work . . . . i was so sold on and charmed by a spacious antique book shop that i left L to hang about outside smoking her cigarettes whilst i coveted the many many shelves of old and new literature, literally gasped upon some findings; such as every single one of anaïs nin's journals and her other non-erotic fictional works - all obnoxiously overpriced, on the other hand yours or mine i located james ellroy's the big nowhere which i have been on the lookout for, finally found but not yet read.


WILL YOU LEAVE WITH ME? a man in a street corner, playing swiftly upon glass barely touching exterior we passed him heading somewhere else and him existing there alone producing that sound at that transitional moment : my very being in shards and he was just a man. two times we visited beyond retro and the second time i exclaimed over a black cap suitable only for old gentlemen, impossible for me not to deeply enjoy how it made me look even more questionably female and perplexingly "gender fluid", oh my . . . . that day L, J, P, L's cousin MA and i had dinner at some gigantic fastfood joint (all this after been flailing around the NK building of all places, with their billion dollar clothing articles looking to SCORE in terms of booze) it stressed me awfully, could barely see straight or maintain my sanity in the throngs of human bodies and had to retreat inside a washroom, shaking uncontrollably, such tiresome details and dramatics. upon inspecting my barely touched plate of pasta J concluded "you waited longer for that food, than what it took you to eat it!" and i probably laughed but on the inside. we were all supposed to Go Out later in the evening, hit some indie club and rule all dancefloors but then we occupied the aunt's kitchen drinking wine dscussing things like sex! and psychopathy! till past midnight and didn't make it back to the heart of the city until perhaps 1:4opm. it proved pretty fucking difficult if not hopeless to find a decent club still open and going strong, even in stockholm(!) after what felt like ages upon ages of endless walking we entered THE CITY PUB, a total dive but indeed apparently the only place pushing later hours of availability - we had the entire "upstairs" for ourselves, bought beer&more alcohol and played a bullshit game of "i have never — " : shocked everyone by the simple and purely accidental act of raising my glass, MA said "what the fuck!" and J said "she's just... freaking us out!" i grinned mischievously . . . . a worthwhile visit definitely, fun to let go once in a while, something i should do more often. our departure home was bleak, both literally and metaphorically - riding the bus towards the airport sensations of my heart collapsing in quakes, black burning light before the eyes and the flight. the flight destroyed me completely.


ever since getting home i've been contemplative, reclusive, disturbed. been leaving the house only for such things as appealing live gigs, went to jazzomat which was a first-timer although i have always been meaning to go just because i like how small it is, unrecognized and quiet – the performer was the very same dude as sang at my sister's going-away party. i didn't really listen and i didn't really care until he flowed seamlessly into a broken version of leonard cohen's hallelujah, here i instinctively closed my eyes, uttered the exact words "oh my god" and gave him my full attention, all my senses. &to think i am nine goddamn days away from The Real Deal. i am certain this event will leave me permanently scarred leave me bleeding always and incapacitated because "i'll never experience anything like it again", because time will never succeed in recapturing restoring specific emotions in specific contexts because history can never repeat itself, only change. i don't care if the man suddenly becomes mute and/or cannot hold a tune, he needs to do little more than just being there and i'll () october has been so far a truly magnificent month and therefore obviously will only get more perfect, i'll be seeing detektivbyrån either on the 29th or the 30th and i cannot wait until i'll finally hear their musical world translate directly before me . . . . J returned to this part of the country for one and a half weeks to offer some of his expertise to the municipality of boden, i picked him up at his arrival; shows how fond i am of him already, the fact alone that i'd do such a thing – because driving's an automatic terror although i pretend at times to be fine and unaffected. i keep dreaming of car crashes, i keep dreaming of death&endings in general, magnified graphics and contours that stifles and chokes the stream of my subconscious, springs me awake : makes me feel underwater and drowning. none of us died or got injured or hurt to my knowledge but we did make it peacefully to a coffee date with L and ID where we decided to attend another live show at punkhuset the following evening. i wasn't overly into the idea since our last visit was so&so but this time – way better on all accounts, despite that i was the Designated Driver & therefore couldn't drink and we missed one out of three bands due to my working late. nevertheless the bands we did catch were lovely, the first act everyone seemed a little displeased with apparently because the guitars were Too Loud – i highly acclaimed it as long as the singer kept quiet and just let the instruments do their singing - then it was exactly the kind of instrumental slowly abrasive echoing sound that can never to my ears, be perceived as too resonant. hadar kasch was the last band for the night, clearly the crowd favourite and offered a superb live performance, one of those groups that's infecting, wonderfully charming In The Moment but lacking whatever vital energy needed on recordings. still we all found them excellent, J said "they're really great!" and L couldn't help but dance.

other artists holding my current interest steadfast; rudi arapahoe, especially the track conversation piece featured on the album echoes from one to another – which is fantastic in itself and i have (joel) to thank for it being among my mp3 files as i type, i myself had no luck when trying to seek it out. (the silent ballet compilation: volume IX) – outstanding, i overplay and i fancy excessively. contains the mentioned arapahoe song as well as the divine bersarin quartett's mehr als alles andere. during a bus ride J introduced me to regina, a finnish(!) trio i know nothing about except that they're producing quirky sugary sweet electropop which stuck with me immediately upon confrontation . . . . yesterday it snowed and tonight cannot seem to hold back on its rainfall, not that i'd ever want it to end, but. i'm having a cup of something that is supposed to be rice tea or so the label says however — it isn't. i'm disconcerted but i don't think it's in direct or any relation to this imperfect beverage. i might be learning things about myself, there's so many elements to everything in life that is bewildering and sad, hard to follow the curves – i am leaving much unsaid here on this final note and yes, i'm careless and bold enough to be counting shamelessly on a Next Time.